DEE1010B Access Control Extension Module
Access control extension module for door opening
The access and control extension module is a door extension module controller what can work independently with the access control, video door phone and management platform. The module communicates with the upper-level device via RS485 BUS to realize A&C function and support swipe card function with the card reader. It has one-channel door sensor signal input, one channel lock/unlock input and one-channel door sensor control output and etc. The door lock supports NO/NC.
Access and control extension module can work with the management platform to issue card, delete card and open door remotely. The module can upload the swipe card information, door lock/unlock information, alarm information to the management center to realize the realtime door surveillance. After grant the card rights, it can swipe the card or use the button to open the door without the main controller. 
Door phones can directly control the door lock but it is not secure because in this case the wires of the lock are behind the door phone and by pulling it out and connecting it the door could be opened. Using the DEE1010B module is it not possible because the connection between the phone and the module is digital.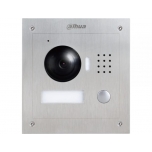 VTO2000A Dahua IP Villa Outdoor Station
214,80 €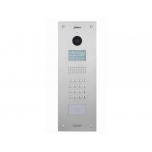 Apartment Outdoor Station with HD CMOS camera
468,00 €