HENSEL Electrical installation systems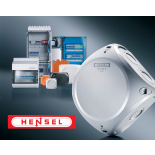 Gustav Hensel GmbH & Co. KG is a leading company specialising in the manufacture of innovative electrical installation and power distribution systems for facility equipment of buildings. Founded in 1931, Hensel today represents a company group which is active worldwide and has about 820 employees.
Wherever environmental influences, dust and humidity require a particulary sophisticated installation technology, Hensel with its innovative solutions enables the reliable and safe distribution of engergy.
The range of modern electrical installation and power distribution systems has made Hensel into one of the market leaders in the distribution of electrical energy in the low voltage sector.
Hensel offers water, fire, dust and weatherproof solutions for buildings and the maritime industry. The product range includes high IP and IK grade products.
Hensel's product range includes:
ProTeam Systems OÜ is Estonian sole distributor of Gustav Hensel GmbH & Co. KG since 01.01.2020. We are adding Hensel products to our website product by product as quickly as possible. Until that task is completed can You get information about Hensele products directly from us or from Hensels website https://www.hensel-electric.de/en/ .