Eldes EWKB5 Wireless Touchpad
SKU:
EWKB5
Brand:
Eldes
Unit:
pcs
A modern design touchpad with convenient user-interface to guide in every step of the way. And it actually talks!
Simple and Flexible Installation
EWKB5 is fully wireless what makes the touchpad extremely easy-to-install, especially in places where wiring is impossible. Optionally, the EWKB5 can be powered up with wire, then batteries will be used as a backup power source. The touchpad can be set up in minutes: add it to the Eldes Security System by one click, mount to the wall and that's all you need to do!
Easy and Intuitive Usage
Simple interface and customizable menu makes the control of Eldes Security System easy and intuitive. EWKB5 was rated with the highest ease of use score by independent users, comparing to other top-selling touchpads in the market. Speed, fast response and high-quality touchscreen make EWKB5 the top-class product.
Talking Wireless Security Touchpad
Lovely voice will assist you while using Eldes Security System. You will be greeted, confirmed about arming/disarming the system and  informed about remote configuration. The touchpad will alert about the fire danger too. EWKB5 speaks in 8 popular languages (EN, LT, FR, ES, RU, IT, DE, PT) which makes the user experience unforgettable.
Easy Security System Management
You will see the most necessary information in a main menu daily. The master menu enables user to configure system settings with additional possibilities. Add/delete users, adjust sound and brightness level, clear event and fault list information. You can check battery level, wireless connection strength and, most importantly, customize main menu the way you want!
Specification
| | |
| --- | --- |
| Supply voltage | 8-15V == 400mA max |
| Supported batteries | 1,5V Lithium AA type FR6 (IEC) / 15LF (ANSI/NEDA) |
| Number of batteries | 6 |
| Battery operation time | ~14 months* |
| Languages | EN, LT, FR, ES, RU, IT, DE, PT |
| Display | 4.3in; 480×272 true-colour touchscreen |
| Wireless band | ISM868/ISM915 |
| Operating temperature | 0…+50°C |
| Humidity | 0-80% RH @ 0… +40°C (non-condensing) |
| Dimensions | 138x96x22 mm  |
| Wireless communication range | Up to 1000m |
| Compatible with alarm systems | ELDES 384, Pitbull Alarm PRO |
*this operating time may vary in difference conditions.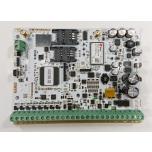 ESIM384 – micro-controller based alarm system for houses, cottages, country homes, garages and other buildings, also capable of managing electrical appliances via cellular GSM/GPRS network.
Examples of using the system:
• Property security
• Alarm switch
• Thermostat, heating and air-conditioner control, temperature monitoring
• Lighting, garden watering, water pump and other electrical equipment control via SMS text messages
• Remote listening to what is happening in the secured area
• Power status notification by SMS text message
255,00 €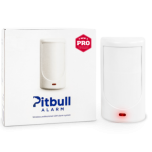 A unique security solution in a body of a motion sensor.
Works as a stand-alone device or as an intrusion alarm panel with up to 16 wireless devices. Pitbull Alarm PRO offers quick installation and configuration and it supports up to 4 Dahua IP cameras, giving possibility to have video & security in a single Eldes Security Mobile App!
258,00 €