Eldes EKB 2 LCD keypad white
SKU:
ESIM_EKB2_W
Unit:
pcs
EKB2 is a modern design keyboard with LCD intended to use with GSM alarm, security and management systems ESIM364, ESIM384. Touch sensitive buttons.
Files
Main screen provides real-time information about temperature, GSM levels, zone status and possible system faults.
EKB2 provides clear visibility in a graphic 128×64 LCD display which allows configuration of parameters, to use the advantages of security system, control the devices.
EKB2 is easy to install, preparation requires 4 wires connection. User friendly panel brings LED illuminated keys and beeps while pressing a key. The tamper switch is for additional comfort and security.
The slimline design brings large and easy to use keypad.
 
Power supply

12-14V DC 150mA max

Maximum keypad connection cable length

100m

Built-in zones

1

Range of operating temperatures

0…+55°C

Language

Possibility to customize language upon your request

Dimensions

133×89×19mm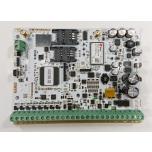 ESIM384 – micro-controller based alarm system for houses, cottages, country homes, garages and other buildings, also capable of managing electrical appliances via cellular GSM/GPRS network.
Examples of using the system:
• Property security
• Alarm switch
• Thermostat, heating and air-conditioner control, temperature monitoring
• Lighting, garden watering, water pump and other electrical equipment control via SMS text messages
• Remote listening to what is happening in the secured area
• Power status notification by SMS text message
255,00 €