H-HUM1220G-M 2MP mobile HDCVI camera
SKU:
H-HUM1220G-M
Brand:
Dahua
2MP Mobile HDCVI recessed Bullet Camera
Files
1/2,9" CMOS, max 30fps@1080P
HDCVI output (Aviation connector)
Minimum illumination: color: 0,02 lux (F2,0) b/w: 0 lux
2.8mm fixed lens, view angle 109,4°
IP67, DC12V
Shock-proof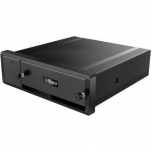 Dahua HDCVI mobile video recorder which can support 4 channel 1080P high-definition real-time recording, GPS, 3G/4G
It can support real-time vehicle location tracking and monitoring, and all the information such as GPS and video can be uploaded by wireless network: 3G/4G
This device can also support to connect various accessories, such as card reader, fuel sensor, emergency button.
It has already pass EN50155/ISO16750 in order to meet the requirements of mobile use.
This device can be used in kinds of solutions for different applications, such as city bus/school bus/taxi/police car/train/truck.
1308,00 €