HD-CVI coax cable + DC, 20m
SKU:
SE-AC20VPC
Unit:
pcs
HDCVI salvesti ja kaamera vaheline koaksiaal-ühenduskaabel toitejuhtmega (pistikutega) ja valmis BNC otsikutega.
20m pikk.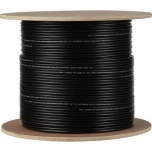 Coaxial cable RG59 with power cable 2x0,75 mm2
Color: black
Central wire diameter of coaxial cable is AWG20 (=0.8mm) and there must be used KBM- or KBF -connectors. Special crimping tool (PICAP) is available.
211,20 €