Crimp tools TRCSPDY3 for RJ-45
Crimping tools SPEEDYRJ45 for connectors PXSPDY6C and PGSPDY2.
Paigalduse lihtsustamiseks lükatakse CaT-kaabli sooned pistikust läbi ja tangidega kaablit fikseerides lõigatakse väljaulatuvad juhtmeotsad ära.
Allows both stripping and cutting the cable.
Suitable for rounded and flat cables.
https://www.youtube.com/watch?v=geKtxa28IBA
Files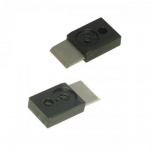 Replacement blades for SPEEDYRJ45 crimping tools.
10 blades in set.
70,80 €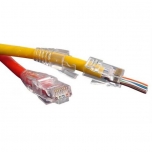 Cat 6 unshielded offset plugs.
For using with crimping tools SPEEDYRJ45.
These plugs are designed to simplify twisted pair terminations by
allowing the wire pairs to be easily inserted through the offset openings and out of the front. This allows the installer to easily
check the wiring order before crimping the connector.
https://www.youtube.com/watch?v=geKtxa28IBA
10,80 €