DC100-S B-connector with silicon, 100 pcs.
Wire connectors with silicone for connecting up to 4 wires without stripping insulation.
100 pcs.
No Wire Stripping
Quick Installation
No Clean Up
B Connectors provide with their unique design the industry's most reliable and fast connection. There razor-sharp piercing teeths inside of the B-connector what will connect wires trough insulation when the connector will be crimpt. They reduce costs, will not corrode and do not require insulation stripping of most wire gauges before insertion. They also allow for connection testing without stripping wires for faster installations with less clean-up time. These features ensure the continued operation of the security, safety and communications systems in which our connectors are most frequently used. B Connectors with silicone are suitable for weatherproof installation.
- Moisture Resistant Barrier
- Non-Curing Sealant
- Will Not Leak Out When Crimped
- Will Not Corrode
- Withstands Temperature Range of -50°C to 250°C
- can be used almost any crimping tool
WIRE CAPACITY
0,25 - 0,35mm
2: 
: up to 4 insulated wires   (Cat 5)
0,5 - 0,75 mm
2
: up to 3 insulated wires 
1,5mm
2
 : insulation must be stripped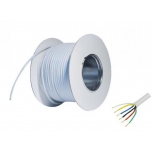 White 6 core Alarm Security cable
34,80 €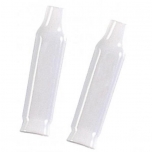 Wire connectors for connecting up to 4 wires without stripping insulation.
100 pcs.
12,00 €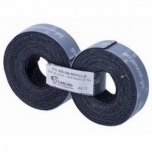 Most practical and easy to use cable tie for organizing your cords.
black, 2 cm wide, 2 x 2,5m rolls
10,80 €