Eldes EWR2 Wireless signal repeater
SKU:
EWR2
Brand:
Eldes
Unit:
pcs
Wireless device EWR2 expands the wireless signal range between Eldes alarm systems ESIM364, ESIM384, Pitbull Alarm, Pitbull Alarm PRO and wireless devices
*EWR2 does not support these new generation devices: EWP3, EWD3, EWKB4, EWKB5, EWS4
Files
EWR2 comes equipped with a LED indicator intended for successful data transmission to the ELDES alarm system confirmation. EWR2 is also equipped with the battery fault/wrong battery placement LED indication, external power connection LED as well as two antennas, one internal, and one external (optional), with the possibility to switch between antennas. EWR2, it has to be bound to ELDES alarm system using ELDES Configuration Tool software or by sending a corresponding SMS text message to ELDES alarm system. It is possible to connect up to 4 EWR2 devices to ELDES alarm system. Upon connection, EWR2 picks the channel automatically.
Maximum wireless connection range is 150 meters (in open areas).
Compatible with ESIM364, EPIR3. Up to 4 EWR2 per system
LED indicator for data transmission, battery state and external power indication
Internal/external antenna
Supports up to 8 Dallas® DS18S20, DS18B20 digital temperature sensors
Supports up to 32 wireless devices
Specification
| | |
| --- | --- |
| Power supply | DC 9-15V; 300mA |
| Battery type | 3x rechargeable NiMH 1.2V AA >2000mAh |
| Battery operation time | up to 48h (might vary in different conditions) |
| Number of zones | 2 |
| Wireless radio frequency | 868 MHz |
| Wireless communication range | Indoors up to 30 m, in open areas up to 150 m |
| Tampers | 2 |
| Range of operating temperatures | -20…+55ºC |
| Humidity | 0-90% RH @ 0… +40 °C (non-condensing) |
| Compatible with alarm systems | Eldes Wireless* |
| Dimensions | 94×137×25mm |
*EWR2 does not support these new generation devices: EWP3, EWD3, EWKB4, EWKB5, EWS4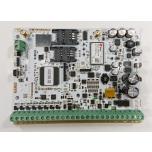 ESIM384 – micro-controller based alarm system for houses, cottages, country homes, garages and other buildings, also capable of managing electrical appliances via cellular GSM/GPRS network.
Examples of using the system:
• Property security
• Alarm switch
• Thermostat, heating and air-conditioner control, temperature monitoring
• Lighting, garden watering, water pump and other electrical equipment control via SMS text messages
• Remote listening to what is happening in the secured area
• Power status notification by SMS text message
255,00 €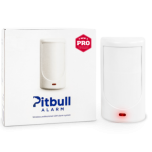 A unique security solution in a body of a motion sensor.
Works as a stand-alone device or as an intrusion alarm panel with up to 16 wireless devices. Pitbull Alarm PRO offers quick installation and configuration and it supports up to 4 Dahua IP cameras, giving possibility to have video & security in a single Eldes Security Mobile App!
258,00 €