Eldes Utility software for installers
Professional Windows, Mac OS and Android software for installers, developed from the feedback of our customers. Eldes Utility is designed for extremely fast installations and convenient system maintenance.
One Tool for All Installations

Eldes Utility is one of the main reasons why installers all over the world choose us. The flexible software is developed to unleash a full system potential – configure Eldes alarm panels, accessories, communicators and adjust them to any customer needs using PC, tablet or even a smart phone. Eldes Utility can be used on Android, macOS or Windows and supports more than 15 languages.

Fast and Easy Installations

Eldes Utility is designed to save your time: it contains optimized user interface, system pre-configuration and many other time-saving features. Informative hints make it even easier – it feels like you are always assisted by Eldes professional.The installation manuals can be viewed and downloaded directly from Eldes Utility. Your installations will become 2 times faster!

Eldes Utility Wizard (Beta)

Your first security system installation has never been easier. Introducing the Eldes Utility Wizard (Beta version), your personal assistant to help you complete your first installation of the hybrid security system ESIM384 and the standalone alarm system Pitbull Alarm PRO smoothly and easily.

Configure and control your system using a language you understand (CZ, FI, FR, HU, IT, LT, SK, RU, EN, PL, ES). Available on Windows platform.

Convenient Remote Configuration

Eldes Utility allows to configure the security system remotely. You can add/remove users, assign rights on specific areas, remove wireless devices and fully configure Eldes Security System. Data encryption and additional security codes ensure the maximum level of safety during remote connection.
Download Eldes Utility from
HERE
.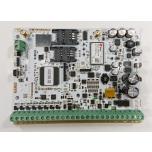 ESIM384 – micro-controller based alarm system for houses, cottages, country homes, garages and other buildings, also capable of managing electrical appliances via cellular GSM/GPRS network.
Examples of using the system:
• Property security
• Alarm switch
• Thermostat, heating and air-conditioner control, temperature monitoring
• Lighting, garden watering, water pump and other electrical equipment control via SMS text messages
• Remote listening to what is happening in the secured area
• Power status notification by SMS text message
246,00 €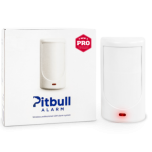 A unique security solution in a body of a motion sensor.
Works as a stand-alone device or as an intrusion alarm panel with up to 16 wireless devices. Pitbull Alarm PRO offers quick installation and configuration and it supports up to 4 Dahua IP cameras, giving possibility to have video & security in a single Eldes Security Mobile App!
258,00 €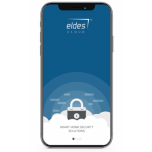 Check what's happening at home even if you are out. Arm/disarm your Eldes security system remotely, control home appliances or see what's happening at home live through HD video. Eldes Security App turns your smartphone into a 24/7 home security system.
Download the free App for your Android or iOS device.
0,00 €